Who is ready for another pattern and yarn giveaway?
The Mirage Scarf was first published by Three Irish Girls for their Eunice's Choice yarn club in June. It is a light and airy design perfect for summer or those first cool fall days.
This scarf is worked flat with fingering weight yarn and larger needles, which creates a drapey, lightweight overall effect. It features an all-over zig-zag mesh lace pattern with an interesting twist on either end of the scarf: both ends are semi-circular.
There are many many mesh scarf patterns out there. This simple rounded edge adds a little unique touch to make this scarf worth knitting.
The Mirage Scarf works well with any semisolid or variegated colorways. The yarn featured in this pattern is Three Irish Girls' McClellan Fingering. One of my all-time favorite yarns. It consists of 60% merino, 30% bamboo and 10% nylon.... a beautiful combination of softness (from the merino), drape (from the bamboo) and strength (from the nylon). I love knitting with this yarn for accessories. It feels wonderful on the fingers and needles.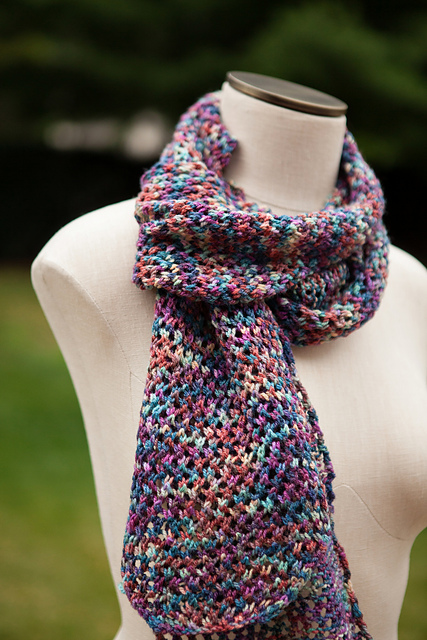 Here is your chance to win a copy of the pattern AND one beautiful skein of this yarn in the Arabian Nights colorway. Bonus! You only need one skein too!
The colorway is Arabian Nights.
You may enter TWO times, IF you also go to the
Ravelry pattern link here
and "favorite" my pattern. Post in the comment with your favorite
Three Irish Girls colorway
is for one chance and then post a second comment saying you favorited my pattern to increase your chances of winning the yarn and pattern. Don't forget to share either your email address or Ravelry name so I can contact you with the good news! You have until next Tuesday to comment. On Wednesday I will select a winner at random and let you know who the lucky winner is.